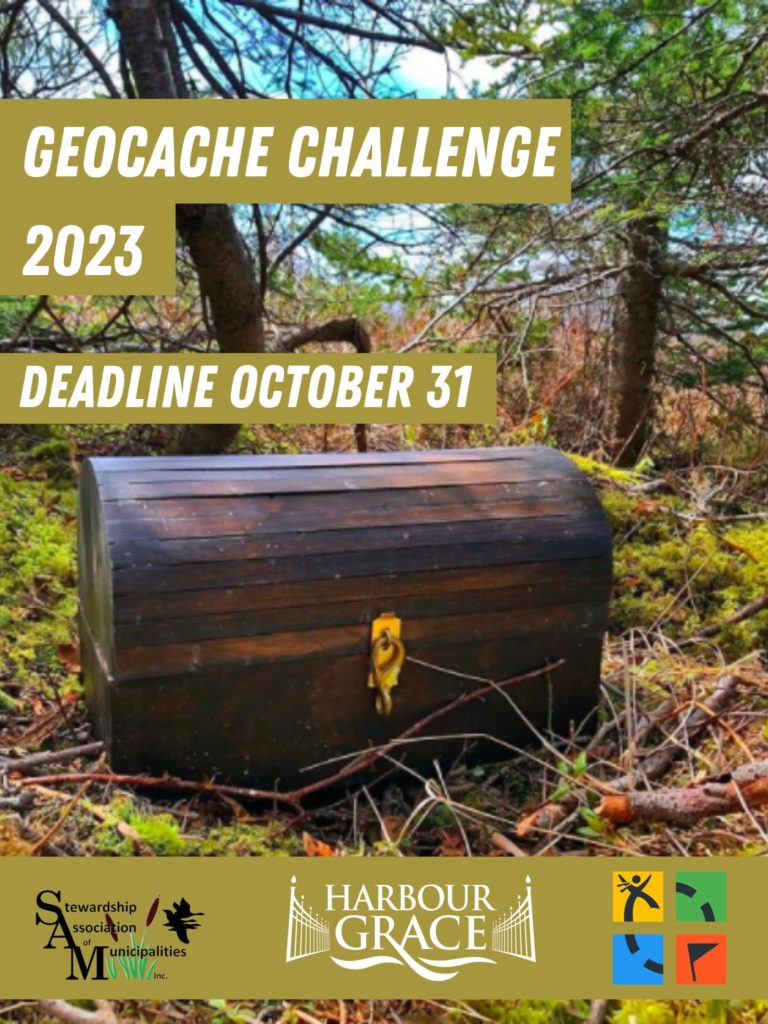 It's back! The Town of Harbour Grace and the Stewardship Association of Municipalities (SAM) are hosting a condensed geocache challenge for 2023 to promote one of our newly designated Conservation Areas (CA), the Harbour Grace Estuary! Simply follow the instructions below to find the geocaches around the estuary area. Inside each box, you'll find plenty of info about local flora and fauna you can find around the area, and why we're preserving these habitats for future generations.
Each geocache site features entry cards. Sign and deliver your geocache entry cards to the Town Hall, 112 Water Street, Harbour Grace, NL, to be entered to win a prize pack featuring some branded merch! There are two sites in total, and if you find both sites, you get two entries! However, there will be a limit of one entry per person, per site.
You'll find each site very accessible, meaning everyone can participate! Happy geocaching!
Deadline for entries is October 31, 2023.
Entry Rules:
1. This year's geocache challenge is focused on one of our newly designated Conservation Areas (CA), the Harbour Grace Estuary! There are two geocaches as part of this challenge. Their GPS coordinates, in 'decimal degree' form (DD), can be found at the bottom of this page. HINT: The geocaches are shaped like small wooden chests—think Peter Easton!
2. To participate, find the geocache and fill out the contact card located in each box. Each completed card represents an entry. Entries are limited to one per person, per site. Submit your completed entry card to the Town Hall at 112 Water Street, Harbour Grace. If you have any issues submitting, call 596-3631 ext. 4 and arrangements can be made. Completed cards will be entered into a contest for a prize pack.
3. The prize pack draw will be held on October 31, 2023.
4. Please do not alter the geocaches when you find them. This is very important for other people to participate. Take your sticker, sign the guestbook at each box, take a picture, etc., but do not move or damage the boxes. Thanks!
5. Participants assume all liability and enter the contest at their own risk!
Geocache Site Locations & Some Easy Tips for Finding Using GPS Locations:
SITE #1: 47.672803, -53.255179

SITE #2: 47.671479, -53.256167
1. Simply 'copy' and 'paste' each of these locations into Google. You will be linked to Google Maps, which will highlight the geocache's exact location. The GPS locations are listed in 'decimal degree' form (DD), the standard used on Google Maps.
2. Download Google Maps on your smartphone and the GPS location into the search bar. Use the app to help guide you to the geocache.
Photo by David Lynch.