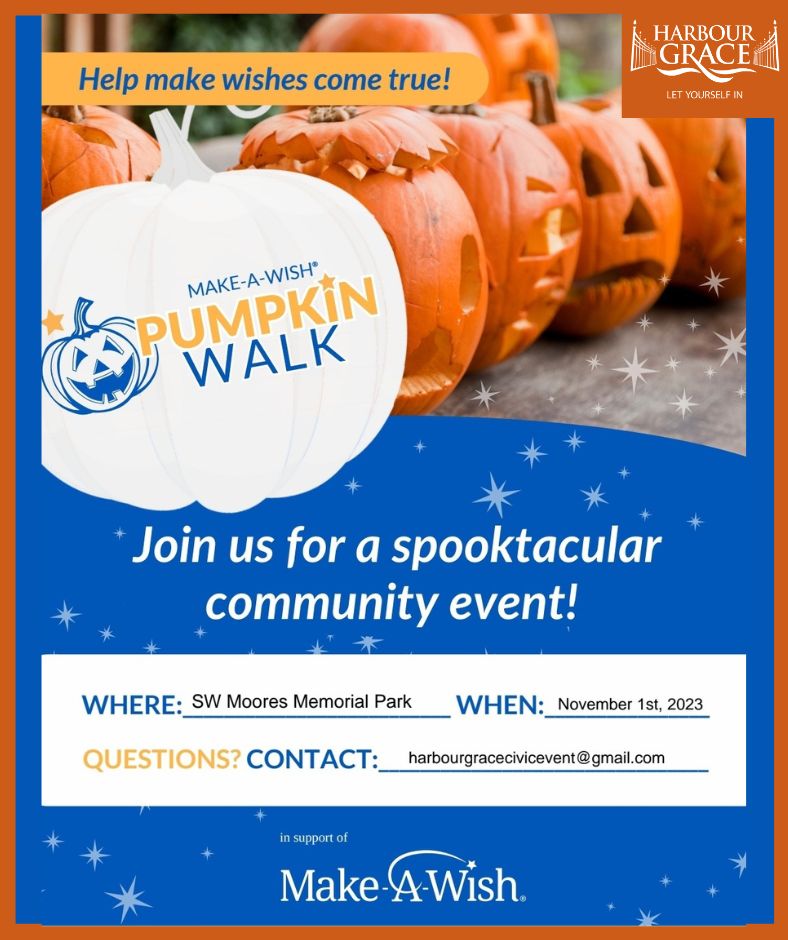 The Harbour Grace Civic Events Committee is hosting our first annual Make-A-Wish Pumpkin Walk!
The Make-A-Wish Pumpkin Walk fundraising event is the ultimate autumn experience for our entire community! This spooktacular, fun event will capture the hearts of all and help to grant life-changing wishes for local children facing critical illnesses.
Families are encouraged to bring their carved pumpkins for display, to donate if they wish, and to participate in a spooky walk—ghost stories optional!
When: Register your pumpkin at 6 p.m.; walk begins at 6:30 p.m. until 8:00 p.m.
Where: S.W. Moores Memorial Park, Water Street, Harbour Grace (across from the Town Hall)
Why: Right now, there are over 40 children waiting for their wishes in Newfoundland and Labrador – we
need your help to grant them. Every 20 minutes, a child is diagnosed with a critical illness. Every one of these kids needs a wish to help give them strength and joy. Wishes are more than a nice to have, they are a need to have, and they are an integral part of a child's treatment journey. Research shows that wishes can help children feel stronger, more energetic, and more willing and able to battle their critical illnesses.
Anyone can participate in the walk! Come put your carved pumpkin on display, or just drop by for a stroll! Please join us!