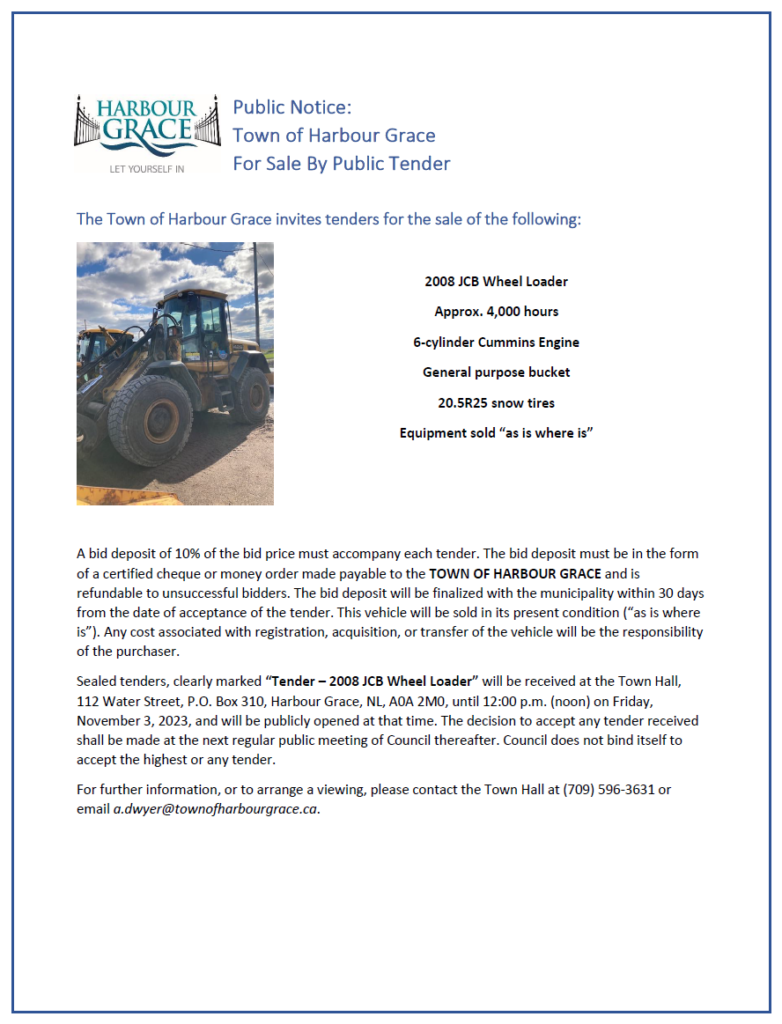 The Town of Harbour Grace invites tenders for the sale of the following:
2008 JCB Wheel Loader
Approx. 4,000 hours
6-cylinder Cummins Engine
General purpose bucket
20.5R25 snow tires
Equipment sold "as is where is"
A bid deposit of 10% of the bid price must accompany each tender. The bid deposit must be in the form of a certified cheque or money order made payable to the TOWN OF HARBOUR GRACE and is refundable to unsuccessful bidders. The bid deposit will be finalized with the municipality within 30 days from the date of acceptance of the tender. This vehicle will be sold in its present condition ("as is where is"). Any cost associated with registration, acquisition, or transfer of the vehicle will be the responsibility of the purchaser.
Sealed tenders, clearly marked "Tender – 2008 JCB Wheel Loader" will be received at the Town Hall, 112 Water Street, P.O. Box 310, Harbour Grace, NL, A0A 2M0, until 12:00 p.m. (noon) on Friday, November 3, 2023, and will be publicly opened at that time. The decision to accept any tender received shall be made at the next regular public meeting of Council thereafter. Council does not bind itself to accept the highest or any tender.
For further information, or to arrange a viewing, please contact the Town Hall at (709) 596-3631 or email [email protected].